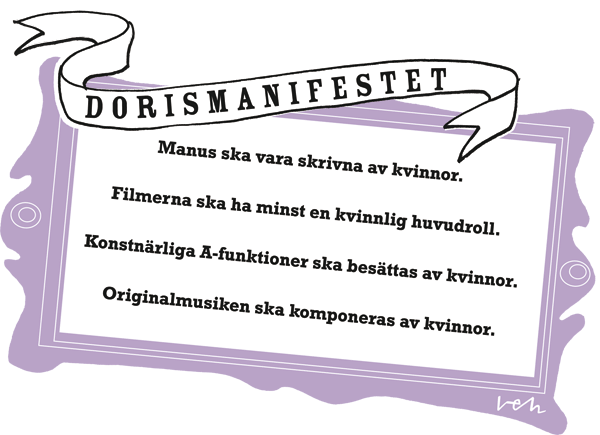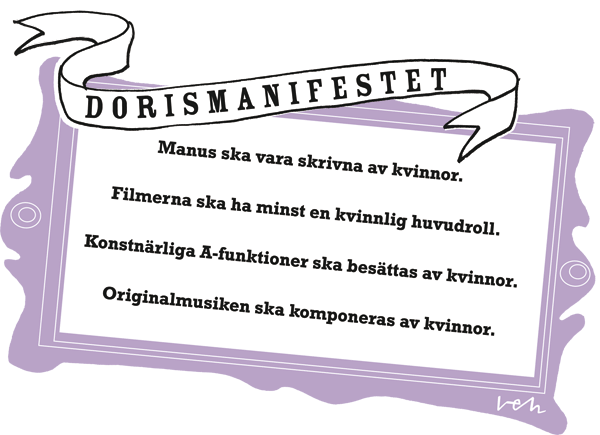 Sedan 1999 arbetar Dorisfilm för förändring av attityder och strukturer i filmbranschen och för att ge ett visuellt bidrag till den allmänna jämställdhetsdebatten.
2003 skrev Doris världshistoriens första filmmanifest författat av kvinnor – Dorismanifestet! Detta för att undersöka hur filmer skulle kunna se ut om kvinnor i högre grad var med i filmproduktioner och för att ge samma villkor till kvinnor som män tidigare haft inom film.
Finns det ett "kvinnligt" filmberättande?
Ser bilden av män och kvinnor annorlunda ut med kvinnor som berättare?
Hur kommer filmerna se ut med enbart kvinnor som upphovsmän?
Since 1999 Doris Film is working on changing attitudes and structures towards gender equality in the film industry and provide a visual contribution to the public debate.
In 2003, and in order to investigate what films would be like if more women were a part of the production, Doris created the first film manifesto in world history written by women – The Doris Manifesto!
The Doris Manifesto examines:
Is there "feminine" film narrative?
Does the image of men and women differ with women as narrators?
What would films be like with only women as creators?